We are located at Potomac Airfield in Friendly, MD and Maryland Airport in Bryans Road, MD each just a short drive from downtown Washington, DC. Whether you are contemplating learning to fly, or are an existing pilot looking for a new rating, BFR, or IPC, we are the flight training school for you. Give us a call or better yet stop by the airport and take a look around. Your new adventure is waiting!
You've always wanted to learn to fly, now do it!
RokMicroNews is a new module, perfect for displaying your content. Your content (plus auto loaded image) are displayed adjacent to your article titles and the hover or click of these titles triggers a javascript transition to another article. Perfect for showcasing news items in a small, but structured spaced.

How do I configure RokMicroNews?
We will take a quick look at the parameters you will find when you install this module. There are 4 columns, parameters, options, demo and description. The parameter column lists each available setting for the module; options lists the available options to choose from; demo lists the options chosen on the demo and description outlines what the module does. [span class=attention]In order to stack multiple modules on top of one another, you must create new modules: Admin → Extensions → Module Manager → New → rokmicronews and fill out the relevant details.[/span]
Parameter
Show Title
Enabled
Position
Section
Category
Order
# of Articles
Preview Length
Nav Position
Nav Interaction
Show Titles
Show Thumbnails
Thumbnail Width
Authors
Frontpage Items
Module Class Suffix
Extra CSS Class
Use Custom CSS
Demo
Yes
Yes
rokmicronews
RokMicroNews
Politics
Recently Modified First
3
260
Right
Click
Hide
Show
120
Anyone
Show
red
leave blank
No
Description
Enable/Disable the module header

Enable/Disable the module

Position of the module

Section of content

Category of content

Ordering of content

Number of articles displayed

Number of characters displayed

Position of article titles

Transition trigger type

Show/Hide Titles

Show/Hide thumbnails

Pixel width of thumbs

Choose specific author articles

Display frontpage items

Suffix applied to the code

Unique class for module

Use the Custom CSS tag

[clear]
The Joomla Core Team and Working Group members are volunteer developers, designers, administrators and managers who have worked together to take Joomla! to new heights in its relatively short life. Joomla! has some wonderfully talented people taking Open Source concepts to the forefront of industry standards. Joomla! 1.5 is a major leap forward and represents the most exciting Joomla! release in the history of the project.
Joomla! is a free open source framework and content publishing system designed for quickly creating highly interactive multi-language Web sites, online communities, media portals, blogs and eCommerce applications.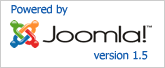 Joomla! provides an easy-to-use graphical user interface that simplifies the management and publishing of large volumes of content including HTML, documents, and rich media. Joomla! is used by organisations of all sizes for intranets and extranets and is supported by a community of tens of thousands of users.
The Joomla! team has millions of good reasons to be smiling about the Joomla! 1.5. In its current incarnation, it's had millions of downloads, taking it to an unprecedented level of popularity. The new code base is almost an entire re-factor of the old code base. The user experience is still extremely slick but for developers the API is a dream. A proper framework for real PHP architects seeking the best of the best.
If you're a former Mambo User or a 1.0 series Joomla! User, 1.5 is the future of CMSs for a number of reasons. It's more powerful, more flexible, more secure, and intuitive. Our developers and interface designers have worked countless hours to make this the most exciting release in the content management system sphere.
Go on ... get your FREE copy of Joomla! today and spread the word about this benchmark project.